Cucumbers are safe for cats to consume and provide some unique health benefits, but they probably won't be as appealing to your cat as canned protein. Cucumbers are a good, easy-to-eat snack for your cat because of their mild flavor and high water content.
Can I Give My Cat Cucumbers?
Quite simply, yes! However, you should only give your cat a small amount of cucumbers at a time.
You shouldn't give more than one or two slices to your feline friend, but they do have health benefits.
We can all agree that cucumbers, which we are about to discuss, have some nutritional value and can help with the relief of thirst.
However, keep in mind that cats are carnivores and do not snack on greens. So, you can treat your cat to a tiny slice of cucumber, but don't expect it to replace her regular meals.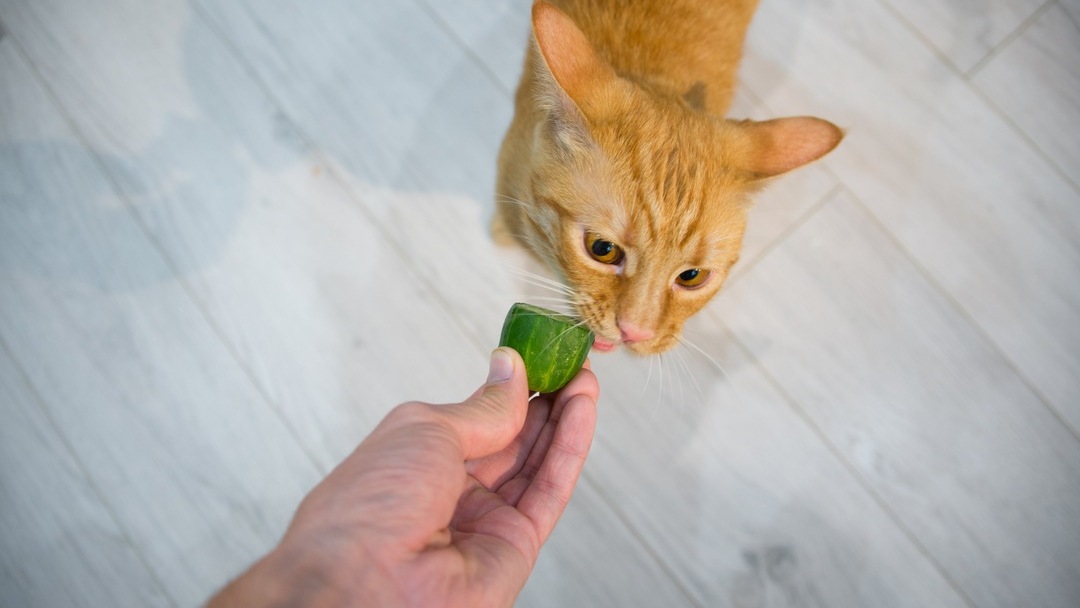 Nutritional Benefits of Cucumbers, for Cats
Cucumbers, like many other types of produce, are exceptionally high in water content. Cucumbers, which are 95% water, are a great food choice for increasing hydration. However, moderation is key to avoid gastrointestinal distress.
Potassium, Beta Carotene, Vitamin K, and Vitamin C can all be found in abundance in cucumbers. The majority of these nutrients are found in the cucumber's peel and seeds. Therefore, the nutritional value of cucumber slices that have been peeled before being fed to a cat is diminished.
Keeping this information in mind, keep in mind that cats can get all the necessary nutrients and hydration from their regular diet of wet and dry cat foods and water.
Cucumbers are not essential to a cat's diet, but they make a nice treat every once in a while. A healthier option for feline friends.
Is your cat diabetic?
You can relax knowing that cucumbers have no added sugar and are low in calories. If you were concerned about your cat becoming fluffy and overweight, you can relax.
We are all aware that pet obesity can cause serious health problems and even a shortened lifespan in senior pets, especially cats and dogs.
Weight loss in both humans and animals can benefit from eating cucumbers. Your cat's metabolism will benefit from the molybdenum it contains.
This is why, if your cat is overweight, you should feed them a few slices of cucumbers, no more than two.
How Can I Safely Give Cucumber To My Cat?
Even though we know that cucumber is harmless to cats, it's still important to remember that too much of a good thing can be bad.
Cucumber's high water content is to blame for this. Too many slices could give your cat an unpleasant case of diarrhea.
Cucumbers are healthy for cats, but it's best to peel them first. This will ensure that your cat's skin contains no chemicals that could be harmful or upsetting.
Finally, if you want to feed your cat cucumber, raw cucumber is fine, but pickled cucumber is not.
How to Feed Your Cat Cucumber
Feeding your cat cucumber should be done so with caution and in very small amounts.
In my experience, cucumber works well when sliced, peeled, and diced. Cats can safely eat cucumbers with their natural skins on, but it's important to remember that the skin often contains pesticides from the farm they came from.
Even though cucumbers have a waxy protective layer, pesticides can still get through and be hard to remove when washing.
It is recommended that you peel the cucumber before giving it to your cat. The last thing we want is for our cats to eat something that could harm them.
Will Your Cat Like Cucumbers Anyway?
Because of their carnivorous nature, cats must eat meat in order to stay healthy. Some cats enjoy fruit and vegetable treats, but they are not necessary to a healthy diet.
Cucumbers are a good alternative to the standard cat food if, like me, you're wondering what else your feline friend can safely eat.
Although many felines find it delicious, my own pet isn't one of them. My cat is also not a fan of avocado or cucumbers.
You can only tell for sure if your cat will enjoy it by giving it a try.
Is Cucumber Safe For Cats?
When we humans learn that something is beneficial for our pets, we often try to overdo it and give them too much of it.
Since cucumbers already contain a lot of water, they should only be given to your cat occasionally.
Can My Cat Eat Cucumber Skin?
Your cat may have trouble digesting cucumber skin. Before feeding your kitten the amazing and nutritious cucumber, you should remove the skin.
The removal of potentially lethal pesticides is another crucial reason to peel the cucumber before consumption.
Toxic pesticides may remain on cucumbers after being washed, as they are often applied while the produce is still in the garden.
The skin of the cucumber should be removed before being fed to your feline friend.
Keep in mind that this isn't just the case with cucumbers, but with any vegetable your cat might eat. Your cat shouldn't eat the cucumber skin if you wouldn't eat it.
Are Cats Afraid Of Cucumbers?
Cats' responses to cucumbers have become a popular topic of interest online.
You've probably seen a video in which a cat is sleeping soundly, unaware that a cucumber has been placed nearby. Most cats, upon awakening, react negatively and strongly to the vegetable.
Animal behavioral scientists have found that playing practical jokes on cats can cause both physical and psychological harm.
Instead of trying to scare your cat with vegetables for internet laughs, feed them to them so they can grow up healthy and strong.
Takeaways
Cucumber is a low-calorie, low-fat food that can be fed to your cat in moderation. It's important to remove the skin before eating because it may contain pesticides.
Cucumbers, with their high water content, are a great way to keep your cat hydrated, even on the hottest summer days.
Cucumbers are healthy, but we human herbivores benefit more from them than feline carnivores.
Fruits and vegetables are not necessary for your cat's health, but you can help them out by using something like a cucumber instead of high-calorie treats.
Finally, a word from my neighborhood veterinarian and me to you: If you feed your cat table scraps, it may start to develop an affinity for human fare. While it's fine to give your cat the occasional treat, it's best to feed it nothing but cat food.
If you insist on feeding your cat table scraps, make sure to portion it out appropriately and leave out any potentially harmful additives.
Feed it to them in their food bowl so they associate it with their regular meals and continue to learn what they should be eating.
If you do this, your cat will be less likely to eat table scraps or food off your plate.